Download KYOTOGRAPHIE map
KYOTOGRAPHIE MAP and EVENT listings available for download!
This MAP has all the information you need to see the festivals exhibitions, events and KG+ informations.
(The map is also available at each venues for free).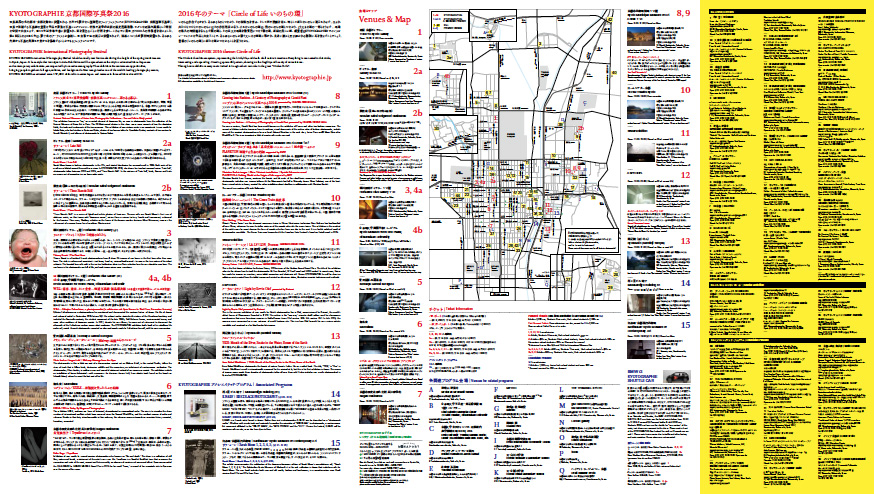 Download Map [PDF/3.3MB] exhibition information, Event information and map
Rent Cycle & Parking


Bicycle Rental, free delivery and pick up anywhere in Kyoto City,
brought to you by SHARE BIKEーMINAPORT
 
For more info. please search "MINAPORT"online.
Eco Station 21:Parking for the first 30 or 60 minutes is free
Most venues do not offer parking. If you are visiting by bicycle,
please use the nearest bicycle parking area.
Bike Parking spaces can be found on the map.
[USEFUL LINKS]
Bus/Train Route Search System "Arukumachi KYOTO"
日本語 | ENGLISH
BMW i3
KYOTOGRAPHIE
SHUTTLE CAR

Every Saturday and Sunday, the BMW i3 KYOTOGRAPHIE SHUTTLE CAR runs between the listed points below from 10:30 to 17:00. All general KG Passport holder (Adult 3200 yen, Students 2000 yen) can use the shuttle for "one section" of the route, just show your passport to the driver. Please wait in front of the KYOTOGRAPHIE flag (nobori) for pick up (3 people per car only). Please note timing varies due to traffic and other factors, and route variation. Reservations are not accepted.
 
 
Ride route
Near Rohm Theatre Kyoto 8, 9, 10
↓
2b
Near Shokian Mirei Shigemori Residence, KYOTOGRAPHIE
temporary bicycle parking (TIMES)
↓
1
Near TORAYA Kyoto Gallery & Cafe entrance (Ichijo dori)
↓
2a
Near Gallery SUGATA (from 11:00)
↓
3, 4a
Near Horikawa Oike Gallery (from 11:00)